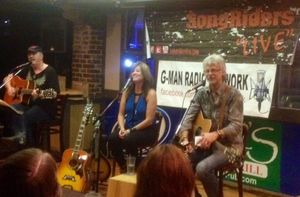 What a show!  
Hits & Grins
members Victoria Venier, Bill Whyte and Little Rock's own
Steve Dean
entertained SRL's crowd with their top-shelf musicianship, harmonies and pro songwriting.  The show was held at Khalil's Pub and Grill-Little Rock July 2014.
The Nashville-based trio
brought the goods
with songs that made you laugh, made you cry and made you say, "wow, I wish I'd written that!"  Dean shared several of his 6 #1 country hits that he has co-written in his career along with a litany of major artist cuts.  
Bill Whyte
's comedic mastery and his song "Crickets" (co-written with Brent Baxter and Lisa Shaffer) were huge hits with everyone.  "Crickets" is the title cut from artist Joe Nichols' latest album release.
Victoria Venier
's multi instrumentalist chops and crisp, angelic vocals filled the room and made a huge impression on the crowd.  Venier, Whyte and Dean even wrote a new tune on the ride to Little Rock from Nashville.  They performed the song during the 2 hour set and judging from the reactions in the room, they are definitely on to something.  Heck, they may even have another
Hit
on their hands!  
SRL wishes the very best to our new musical friends,
Hits & Grins
.  Thank you for bringing such great talent & entertainment to 'the rock".  We can't wait to see you again.