Artists/Producers - Hear a song you'd like to cut? Contact Jim directly for licensing and publishing information through the
SRL contact page
.
0:00/3:31

0:00/3:33

0:00/4:22

0:00/3:42

0:00/3:39

0:00/3:24

0:00/3:32

0:00/3:22

0:00/3:50

0:00/3:54

0:00/4:18
In 2014, Jim and his friend/co-writer, Terry B. Smith, co-founded SongRiders "Live" in Conway, AR -
SongRiders Live
- to bring veteran & newer artists and professional singer/songwriters together with music fans for up-close and personal music events. SRL provides an intimate listening experience for local music fans and a personal, "supportive" experience for featured songwriters and recording artists.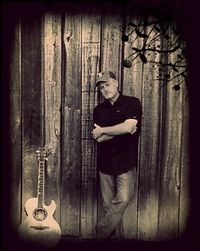 Guest artists, hit songwriters and Arkansas favorites have included Lance Carpenter, Heath Wright (of Ricochet), Erin Enderlin, Steve Dean-Victoria Venier-Bill Whyte (Hits and Grins), Buddy Case, Rodger King, Jason Campbell (of Singletree), Micheal Lee Collins (of Haven Hill and Further Down), Buh Jones, Casey Penn, and Courtney Sheppard.
Jim's music has been picked up for film/tv music licensing and in March of 2015, his song "Bury Me With My Boots On" (cowriters Terry B. Smith and Sandy Ramos) was a single release by Australian Country artist, Travis Collins for his album, "Wired".  "Boots On" held the #1 position for 5 weeks on Australia's Top 30 Radio Airplay chart.
In August 2015, Australian artist Kristy James announced her new single release of Jim's song "Friends Like You" (with cowriters Terry B. Smith and Anne E. DeChant).  The official video released in October 2015.

Jim writes his own material and with a variety of co-writers.  He stays involved in writer's nights, showcases, workshops and conferences, is a BMI songwriter and an active member and Regional Coordinator for the Nashville Songwriters Association International (NSAI) - Little Rock, AR Chapter.
Jim is originally from Springfield, OH, and began his musical journey watching his grandpa bang out Hank Williams and Johnny Paycheck songs in the valleys of Hillsboro, OH. Jim's songwriting has been described as honest, feel good, from the heart "story strong". He has written and performed since Northeastern High School (Go Jets!) and college days at Ohio University at Athens, OH where he earned his BBA in Finance.