Jim Pollock
and Terry B. Smith live in Central Arkansas and share a common obsession...songwriting.  
The two became friends at a Little Rock songwriter event in 2012 and quickly began co-writing together.  Jim and Terry now have a growing catalog of co-written songs and credits.  
"We attended a private house concert and were amazed by the turn-out of songwriting fans, the talented Craig Caruthers and most importantly, the down-home feeling everyone in attendance enjoyed."  

"When we were leaving, I think we both said, "ya know, we should do something like this..."  And so, here we are with our own house concert version, SongRiders "Live". 

We hope to see SongRiders grow into a community of music fans and a popular stop-over event for many performing songwriters and artists. ALL ticket donation proceeds go to our guest performers. 

See you at a SongRiders "Live" event soon! - Jim and Terry
 
We bring veteran & "newer" musical artists and established singer/songwriters together with local music fans for private, up-close and personal concert events.  Events are social, private, and
designed for up to 40 attendees
.  Our events take place at locations like small club venues and in homes that are appropriate for the "listening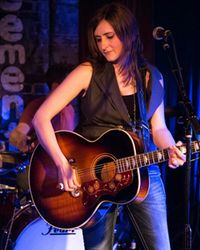 What music fans should expect
...an environment where you can actually "hear" great music and spend time with established and up and coming musical artists & singer/songwriters.  Events are primarily private, social gatherings and as a rule, will consist of just the artist and their chosen instruments, sharing stories and talents, up-close and personal.
What our guest "pros" should expect
...the opportunity to meet interested music fans who have taken time to add you to their busy schedules, made a donation, and look forward to meeting you on a personal level.  You will find current and new fans alike who want to take in your "brand" of entertainment, songwriting and showmanship.      
 room experience".