Welcome to SongRiders Live!
"It's all about the song, so let it ride..."    
SongRiders Live brings seasoned and up-n-coming songwriters and artists together with local music fans for private, up-close and personal music events.
Our aim is to provide an intimate, "live" listening experience for local music fans and a personal, "supportive" experience for our featured songwriters and recording artists.
Our event reservations fill up on a first-come, first-served basis.  To make it as efficient as possible, there are 2 reservation options:  OnLine and By email/check.

1.  OnLine - To reserve tickets securely on-line, click Get Tickets below or visit the Songriders Live secure on-line store.  When you have completed your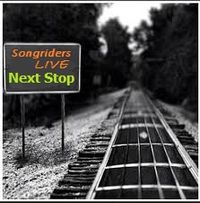 transaction please print your confirmation and present it when you arrive.  

2.  By email/check - If you prefer to reserve seats by sending your donation via check, please see document link below for details/instructions. 

For donations via check and terms of engagement, please review this information.

We will acknowledge receipt of all checks and confirm reservations by email. When mailing your check, be sure to include an email address for your confirmation.
---
Pro Songwriters and Guest Artists @ SongRiders Live